Chiropractic is not only about back pain, but it is a necessary facet of your life just as eating, breathing and exercising are. Chiropractic is a natural, preventative avenue that allows for your body to take care of itself. You don't really need anything from the outside to take care of you as long as you maintain yourself and allow the brain and the nervous system to communicate with each other. My goal is to get you well and then keep you well.
Choosing Chiropractic — the Perfect Fit
I've always believed in natural healing and chose chiropractic because I think that the body itself is the most effective healing tool. Even as a child, I never took prescription medications. Because I believe motion is life, it was a natural fit to study movement. I earned a Bachelor of Science degree in Kinesiology from Simon Fraser University.
As much of my education focused on physiology and anatomy, my undergraduate coursework provided a strong foundation for my chiropractic studies. I was able to apply what I learned to some type of health care. Chiropractic was the perfect fit for me.
I attended Life Chiropractic College West in Hayward, Calif. I chose Life because of its philosophy: the energy inside us is what takes care of us as long as we give it the right tools. While at Life, I was part of a fraternity that promoted health and well-being through the principles of chiropractic.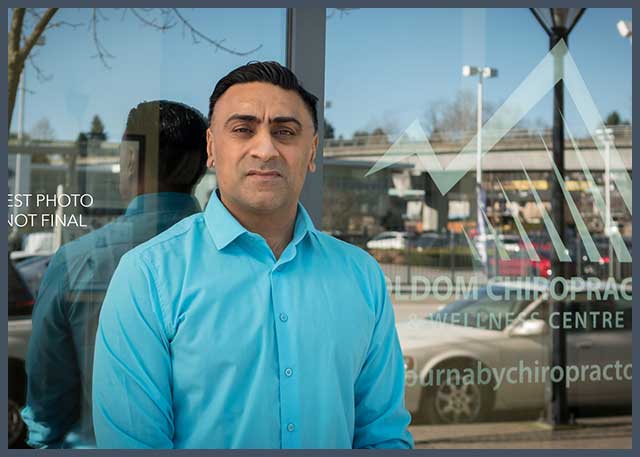 Helping Others Achieve Wellness
I enjoy taking care of people and improving health versus suppressing sickness. It's my goal to help you get better so you can live a better life. Communicating with people that natural health care should be part of their life is something I regularly do. Regardless of age, chiropractic should be part of your wellness arsenal. It's not about pain; it's about well-being.
Because of the various techniques I learned, I can custom-tailor care to each patient to get them well. Dr. Ron is qualified for prenatal and pediatric care. In addition, I focus a lot on postural work and have training in orthotics and overall family wellness care.
Living a Healthy, Active Life
I practice what I preach to my patients by staying active, eating right and being positive. My wife Tina and I love to work out and do yoga several times a week. My family, which includes our beautiful children Mayan and Millen, have all been under chiropractic care, and we live the philosophy that whatever made the body heals the body. I also enjoy coaching my kids' sports teams as well as reading about positivity and spirituality. I also enjoy hanging out with my family.
If you're ready to get well and stay well, I encourage you to contact our office today to schedule an appointment with me!